Okay… I retract my previous post about $290 Padres tickets being too high of a price. Everything is free… the best parking, all food, beer, or whatever else you want. There are servers that come to your seat and bring you whatever you want, as often as you want. We had 5 or 6 beers, steak, nachos, hot dogs, carrot cake, cookies, ice cream, pretzel and probably some other stuff that I can't remember (you could even get sushi brought to you). There was also a secret underground lounge, bar and restaurant (all free too) that you could go to whenever you feel like it.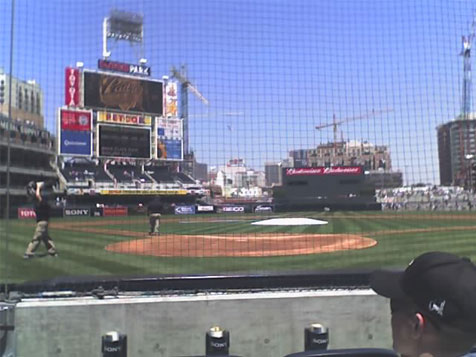 We were right behind home plate (we were on TV for every pitch), and even better is the game was AWESOME. Padres losing 5-0 in the bottom of the ninth, rally with 5 runs to tie it, then win in the 10th. If you really want a summary, check ESPN.
They were fantastic seats, and actually worth the $290 price.
I found some info on them over here.