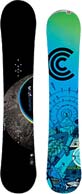 I got a new snowboard (and some other stuff to do with it today)… I ended up getting a Burton Custom 154, Flow bindings some new boots and some *really* nice gloves (having cold or wet hands SUCKS!).
Anyway, just in case whoever stole my previous gear out of the back of my truck is reading this… "It sucks for you, because now you are going to hell and you are going to have no use at ALL for my snowboarding gear in hell. And if I ever see you, I'm going to stab you!"
Lame ass took EVERYTHING from the back of my truck… snowboard, boots, gloves, beanie, thermal underwear, socks, frisbees, etc.