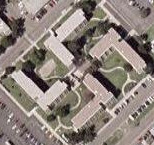 After seeing the "Jesus In The Sand" image from the Google satellites, it reminded me of a Nazi building a saw here in my hometown (San Diego).
I don't know what is actually in it or anything, but it sure seems like a strange to design a building in the shape of a Nazi swastika (even pointing in the right direction if you look at it with the North at the top).
Anyway, click here to see it in Google Maps for yourself.